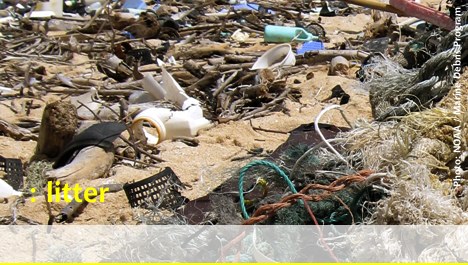 Everything finds its way into the sea
Litter finds its way into the sea, and is responsible for the death of approximately 1 million sea birds and 100.000 marine mammals and turtles every year!
Sea turtles often mistake nylon bags for jellyfish, their natural diet. This causes intestinal obstruction and finally leads to death. Fishing lines and the remains of nets, plastic loops, ropes and other waste can entangle fins and extremities of seals, and cause drowning or amputation. The so-called ghost nets, which are no longer used by fishers, are particularly dangerous. They float across the ocean and become deadly traps for many marine animals.
One hundred and seven tons of litter were gathered in the north of the Hawaii Islands in 2002.
Where is ocean litter found?

Adherence to international agreements
(e. g. MARPOL, OSPAR, HELCOM)
| | |
| --- | --- |
| | Stop waste disposal in oceans (e.g. on cruising liners) |
| | Pay attention to economic usage of packing material. |