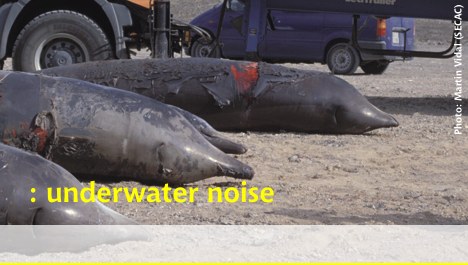 The ocean: a noisy place
Background noise in the ocean has increased dramatically as a result of human activity during the last decades. This affects the sensory radius of many aquatic animals. Some noise sources, like the firing of airguns for seismic investigations or the military operation of Low- and Mid-frequency sonar systems, not only harass marine life but can also cause death.
The deep-diving whales like the Sperm Whale and Cuvierís Beaked Whale appear to be particularly sensitive to noise. There is evidence to suggest that the mass strandings of Cuvierís Beaked Whales in the Mediterranean Sea (1998), Bahamas (2001) and Canary Islands (2002) coincided with military operations.

| | |
| --- | --- |
| | Cessation of the use of Low- and Mid-frequency sonar systems until their effects on marine inhabitants have been determined. |
| | |
| --- | --- |
| | Sign the petition of yaqu pacha or other organisations addressed to NATO Headquarter in Brussels requesting that the military operation of high intensity sonar systems is stopped. |
| | www.yaqupacha.org/petition.htm |